Welcome to the Coalface Experience
Join Us to Celebrate 25 Years!
The 5th of February, 2015 marks 25 years since Wharrier and Mr Ed, Australia's last working pit ponies, were retired from No.2 Mine at Collinsville. A rich and unique history, the story of the miners of Collinsville and their pit ponies remains fresh in the memory of locals. As the town struggles with the slowing coal mining industry, does this rich history hold the key to the future, and reigniting our community spirit.
For more information check out the Pit Pony Webpage: www.pitponyexperience.com.au.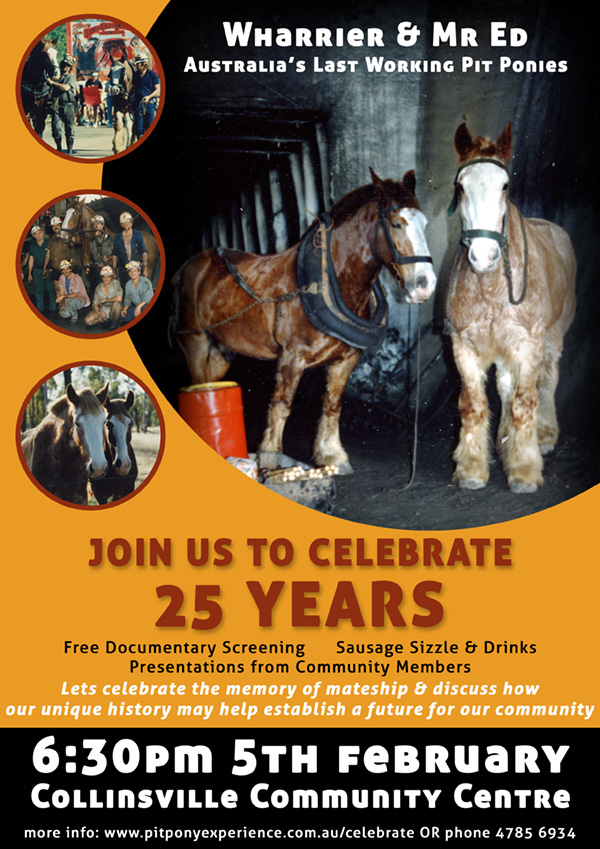 For more information about the Pit Pony 25 Year Event:
Click here to visit the Pit Pony Experience website.
Below you will find a link to our crowd funding page – launching on the 5th of February 2015
Pit Pony Experience Crowd Funding

The Collinsville Coalface Experience celebrates the unique nature of Collinsville 's, and indeed Australia 's, coal mining heritage; and the battles, victoires, hardships and joys of life for the coal miner – above ground and below, across the decades.
Capturing the tears and the smiles, the Coalface Experience showcases the unique stories of the men and women who lived through the early years of coal mining in Collinsville . The rhythm of day to day life is told through the voices of the locals, as well as their reaction to one of the greatest tragedies witnessed in the history of mining in Australia .
The Coalface Experience combines the latest technology in museum displays with an eerie sense of life underground as the story of mining life and technique is explained in incredible detail.
Today the Coalface Experience reminds us of the battles won and lost by our forebearers, and the importance of unity and friendship in the good times and the bad. A visit to the Collinsville Coalface Experience is certainly an emotional one, yet crucial in the telling of history across the generations.