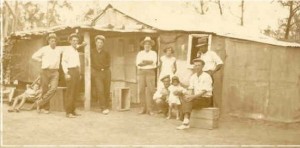 Did you know… Gold was discovered around the Collinsville district by Richard Daintree around the same time he examined the coal seams in the Bowen River area.
Mt Wyatt was the first official gold mine in the area, opening in January, 1867. In 1883 Sunbeam mine opened, producing gold and silver. Between the years of 1883 and 1934, Sunbeam produced 21 tonnes of silver.
Several other gold and mineral deposits are known around the district and there is still alluvial gold found there today. The old workings of the mines are still visible as you drive past.